Processes to book treatment in a one-man hair salon
The situation below shows the four processes to reserve one or more treatment(s) at a hairdresser's saloon one-man business. This can also be a beauty salon or another business where one has to select a product and/or a service in advance and after selection the total time is known. Then the available times are offered and one can reserve the treatment(s) on a specific day and time. It is also possible to link reservation costs to this, but this example has been omitted. This environment concerns a website that was requested by telephone. The small screen of a phone has been taken into account. There is an app with which these same processes can be carried out, however, new customers are not aware of the existence of an app or existing customers may not be interested in downloading one, which is why we have developed a mobile variant. If one arranges this booking process via computer, laptop or tablet, a different picture is shown and will be illustrated in a later stage.
Selection of treatment type
The screen below shows the situation that three categories (types) are present in the treatments, namely LADIES, MEN and CHILDREN. When there are no categories and the company wants to offer the total list immediately, this process will be skipped and one will go directly to the process: "Selection treatment".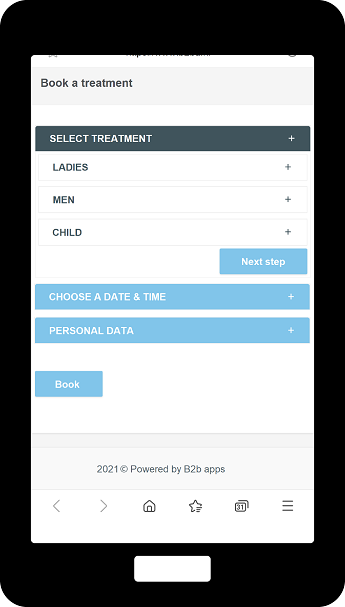 Selection treatment
The screen below shows all products for the treatment type: LADIES. The treatment, duration of the treatment and the price is directly visible. It is possible to select multiple treatments so that the duration is added together. As soon as a choice has been made, a green tick will be shown.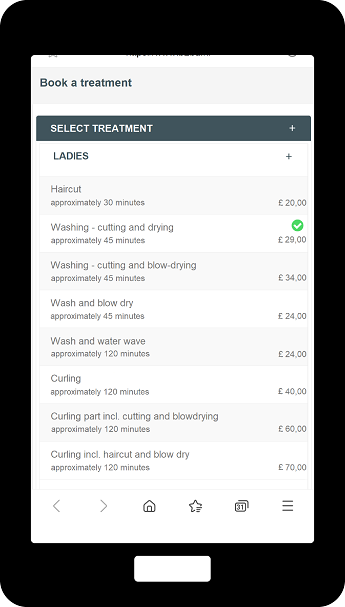 Selection of date and time
The screen below shows the available dates and times. By default, the current date is selected. If no time slots are available, another date is selected and the available time slots are offered. After clicking on a time block one can go to the last process.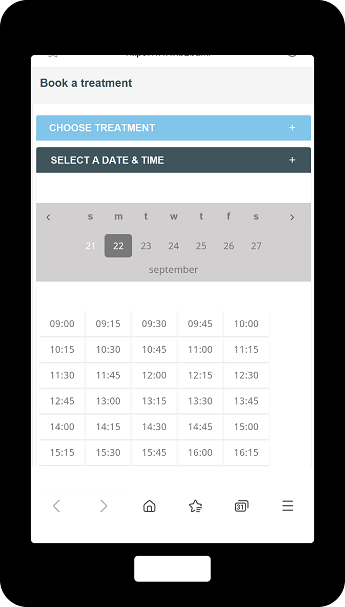 Entering personal data
The screen below shows the last process and is the data collection of the customer. These data can be extended, for instance with address details or date of birth. As soon as the details have been entered, select the button: Book and both the customer and the company will receive a confirmation e-mail.