Processes to book treatment at a hair salon with staff (via an app)
Processes to book treatments at a hair salon with staff (via an app) The situation below shows the six processes to reserve one or more treatment(s) at a hair salon with staff. This can also be a beauty salon or another business where one has to select a product and/or a service in advance and after selection the total time is known. Then the available times are offered and one can reserve the treatment(s) on the specific day and time. It is also possible to add a reservation fee, but this was omitted in the example. This environment concerns reservations made via the app previously downloaded via the smartphone. There is also a website with which you can carry out the same processes, see submenu: reservation - website ..., however, existing customers are prepared to download an app from their favourite hairdresser or salon to directly schedule an appointment.
Selection of treatment type
The screen below shows the situation that there are three categories (types) in the treatments. If there are no categories and the company wants to offer the total list directly, this process will be skipped and all treatments will be shown immediately. Categories are useful when there are many treatments.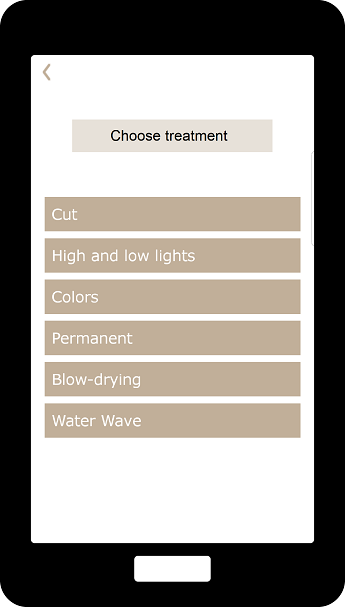 Selecting a treatment
The screen below shows all treatments for type of treatment: Hairdryer. The treatment, duration of the treatment and the price is directly visible. In this example, a treatment has already been selected and it is possible to select more treatments. By using the plus and minus buttons, a treatment can be chosen or deleted.